Active medicare solutions
Bringing you personalized, quality service and building strong relationships.
Our mission is threefold: To educate Medicare recipients about their Medicare insurance options; to help them find the best plan that meets their specific needs; and to provide them with quality service moving forward.
Our vision is to be the most client-centered Medicare Insurance Agency in the Richmond area, to make the process easier, and to give our clients the personalized attention they deserve.

Relationships. At Active Medicare Solutions we advocate for our clients. As the industry changes, our goal is to help you well past the point of sign-up, answering questions and serving your needs.

Local
. We value local, intimate, individualized service. Instead a cookie-cutter approach, we want to sit down with clients face-to-face to serve as their advisor.
Knowledge
. Education is an important part of applying for a Medicare plan. We believe in giving the client all of the tools they need to navigate the complex process.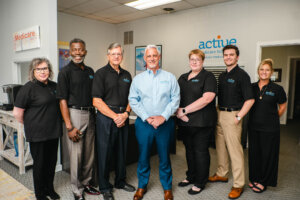 Active Medicare Solutions is a locally owned Richmond, Virginia Medicare Insurance Agency that specializes in providing personalized service, helping clients find the best Medicare Insurance program for them. We understand that every person is different, and there is not a single catch-all program that works for everyone. We work with you to discover your individual needs, to tailor your program to you, and to simplify the process. We partner with many Medicare Supplement, Medicare Advantage, and Part D carriers.
Craig Rasmusson has been my agent since the day I was eligible for Medicare. He has been nothing but professional and knowledgeable for all these years. He even makes house calls. He thoroughly explains everything to me, and anytime I leave a message for him, he calls me back within an hour. I have referred him to friends who were impressed with him, and now he is their agent also. In this day and busy times, there are very few who are willing to go the "extra mile," but Craig does. Even if I don't call him during the year, he keeps in touch and keeps me informed of all changes happening. I am so thankful to have Craig as my agent. He is the BEST.



I had a terrific experience with Craig and this company. Came to my home when convenient for me, explained everything, answered all my questions, and signed me up right at my kitchen table. Highly recommend!
Craig came to our home to review our current Medicare supplement plans. He researched what we each have currently and what is available for 2019. My husband signed up for a plan with another company and is saving money, both on copays and out-of-pocket. What would take me hours to research, Craig was able to do in under an hour. Plus, he's really personable and fun!
Craig has been helping me for about 8 years with all of my insurance needs. He is there to help with any of my questions, small or large. I have referred several people to him & they too have been pleased. If you can't reach him, leave him a message he will call you back.
We prefer to do business the old-fashioned way, face to face. We still make house calls! We will meet you where most convenient for you and explain all your Medicare Insurance options. A face-to-face meeting, with someone sitting right in front of you, will alleviate your worries.

It is important to take the time to educate you on Medicare insurance options. We will check your doctors and medicines and answer all your questions. We can help you find the best plan for you and it won't cost you a dime. The insurance carrier pays for our services, not you. Let us do the work for you!

Meet your medicare advisor
Craig Rasmusson is a Medicare Insurance Advisor and the founder and president of Active Medicare Solutions. Since 2011, he has helped individuals understand their Medicare options and select the best Medicare Insurance program to fit their specific needs.

As a Certified Senior Advisor (CSA)® Craig has met stringent requirements and committed to the highest standards. He brings advanced knowledge, insight and understanding to his work with the senior market.

Craig has been health insurance licensed for over 25 years, including three years with Humana, where he was proud to receive numerous achievements, including the Humana Summit award in 2013. This award recognizes 10 employees a year, out of est. 50,000, for providing "perfect service experiences."

Craig was born and raised in Washington State, and has called Richmond his home since 2011. He and his wife Sara have been married for over 20 years and are proud parents of two boys. When not working, he enjoys hanging out with his family and riding his dual sport motorcycle.

"

It is our absolute pleasure to serve our clients' needs, and help them navigate the Medicare enrollment process.

Craig Rasmusson, Founder & President Active Medicare Solutions
Medicare Insurance Specialist

Elaine Buchanan
Medicare Insurance Specialist
Interested in applying to join our team?
Fill out the form below and, if qualified, we'll be in touch about an interview. Best of luck!